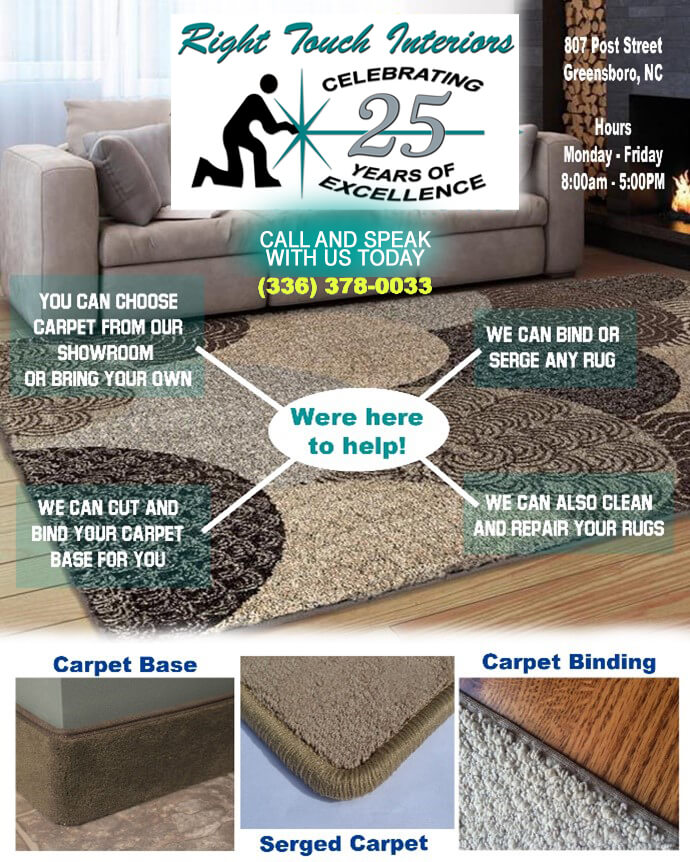 Right Touch Interiors offers reliable, quick, quality rug services at reasonable prices!!
Right Touch Interiors can help you revitalize rugs/carpets and pieces of carpet by adjusting size and shape, adding or removing borders, and adding binding, serging or tassels to the edges.

Turn carpet remnants into useful area rugs… or repair existing ones!
Tape binding, serging, cut-down, adding borders, etc.
In practice, binding protects the edge of the carpet from wear and unraveling.  It stabilizes the corners to keep them strong.  Aesthetically, binding can not only add function but style to match your decor!
Binding of any rug or carpet is important for the simple reason that it keeps the ends from unraveling. Furthermore, it gives the carpet a custom look. Polyester Carpet Binding tape is stitched on using nylon and cotton threads to ensure a good bond. Serging is also stitched on, however Serging (also known as Whipping) is 100% cotton yarns and is considered a much more elegant look.
Our most popular binding is 1-1/4 inch Binding Tape, and we stock over 140 different colors.
Depending on your specific needs, we can accommodate for most all rug repairs. Of course the condition of your rug will determine the work needed and a cost. This is where resizing can be a worthwhile investment. Especially if it's a quality rug or perhaps one that has sentimental value.
Rug Repair estimates can be priced over the phone, however without seeing the rug or carpet piece we can't offer firm pricing. Special orders of materials (specific yarn colors or textile goods) are available, but can and do change.
Resizing is something that can be done on most rugs or carpet. New or used, it doesn't matter. There are many times we've had customers bring in a new store bought rug to be resized for the fact that it didn't quite fit where they intended to put it. So resizing can be the answer.
Resizing isn't just to reduce the size of a rug, but making a rug larger is something we offer as well. Having borders put on your existing rug can enlarge it to fit your specific area and give it a custom look.